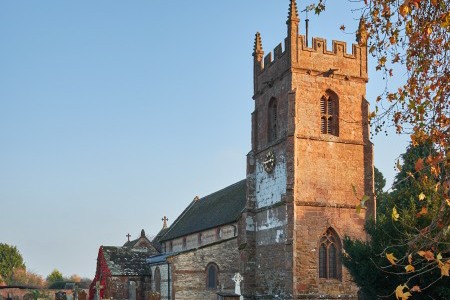 Stockton is the largest of the six villages.  It is characterised by the 19th century terraced cottages built for the employees of the neighbouring quarry and cement works (the latter now closed) and small estates of new houses.  
St. Michael's & All Angels Church is situated at the heart of the village.  The origins of the building are probably Norman but the greater part of the building is Victorian, with a wonderful east window. It is in an LEP with the Methodist Church. 
A range of activities take place in the church, including a Knit & Natter group, "Create & Play" baby and toddler group, a weekly prayer meeting and monthly soup lunches.  Other events include concerts, Christmas Tree and flower festivals, plant sales, pancake party etc.  The building is also hired out from time to time for use by other village organisations. 
The PCC is responsible for the oversight of the Fosse Foodbank distribution centre in Southam. 
The style of worship is an eclectic mix of Common Worship Holy Communion, lay-led informal worship, a Methodist-led Holy Communion and Messy Church.  The school also comes into church to celebrate the special festivals during the year.
The church was reordered 14 years ago and is now fully accessible, with underfloor heating, lighting, projection and PA systems, meeting rooms, accessible toilets with a baby-changing area, and kitchen.  Car parking is available on the street (although alternative arrangements are made for larger events).